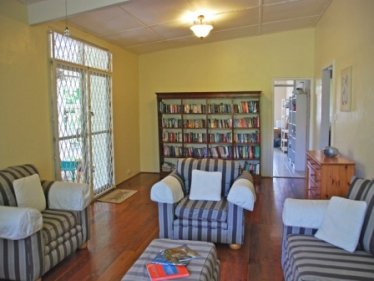 At the present time this property is not available to rent through this web site so please visit www.holiday-home-rentals.co.uk or for a further selection of holiday homes in Barbados visit www.Come2stay.co.uk where you can rent the holiday villas and apartments direct from their owners.
Situated in a quiet residential neighbourhood on the lively South Coast of Barbados this delightful three bedroom and two bathroom house is only five minutes walk from the popular and picturesque Accra Beach and close to many restaurants and bars.

Situated in a quiet safe residential area the property offers an ideal place to rest and relax and is still near enough to all the action when required.

The property benefits from a large veranda with plenty of seating and a full Dining Area for up to eight people for al fresco dining overlooking the garden. There are also mango and fig trees in the garden from which, subject to season, you can help yourselves to and make delicious cocktails, blender provided.

In the nearby famous St. Lawrence Gap you will find a variety of restaurants, bars and nightclubs, where if you have the energy you can party all night. The house whilst is close to all the action, being situated in a residential neighbourhood, allows for total peace and quiet for when you have had enough fun and just want to relax and soak up the sun in the garden, which is safe and secure for children to run around and play.

A weekly maid service is included to clean the property and to change the bed linned. The house is managed by Annette Edhill who is local and can arrange excursions and car hire for you.

Scotch & Soda Diving from nearby Sandy Beach is highly recommended being the best dive operation on the Island - see the Turtles on Sandy Beach Reef or explore the wrecks in Carlisle Bay.